COME AND HAVE AN AFFAIR WITH ME ON THE ISLAND OF CRETE, GREECE!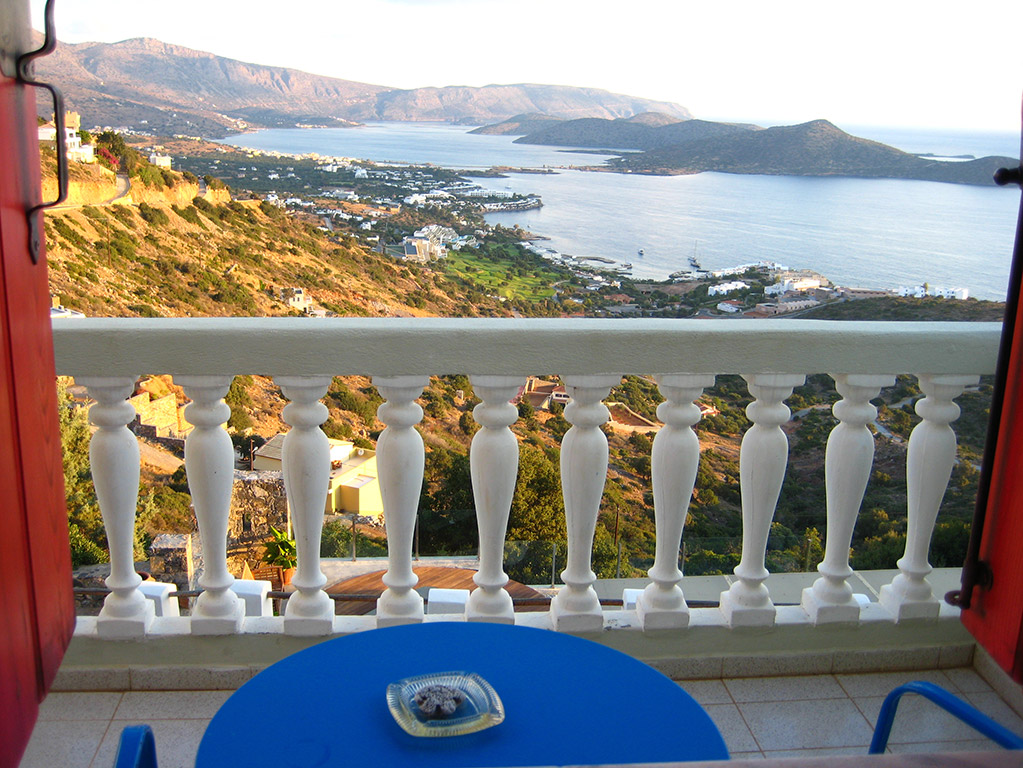 Crete changes people and they return again and again and again!
"Both my wife and I declare that our trip to Santorini and Crete was one of THE most memorable trips we have enjoyed over the years. The level of enjoyment comes from the excellent organisation by Francesca Muir.
The skill Francesca has in knowing the local places and people and the language was amazing. We received the best tables in restaurants and the best attention – all because Francesca spoke the language and opened doors that would be difficult for any ordinary tourist. She is a natural and with her personality and knowledge she is THE BEST person to show you her beloved Greece." – Tom S.
"I am writing to thank you for the wonderful Greek holiday we had that you so expertly organised. From the moment we touched down at Santorini airport to the time we left Crete, it was perfect. We loved Crete for the food and wine and places of interest that you showed us. A particular favourite of mine was Spinalonga, the old leper island near Elounda, so laden with history and sadness but a must for visitors. I also was in awe of Knossos, the old Minoan ruins, also another must see. The cost of the holiday was very reasonable thanks to you getting the best bargains available. I highly recommend you to anyone thinking of going to Greece as your knowledge is spot on and I look forward to doing it again with you." – John T.
"If you want to travel with a small group to Crete, have fun, eat great food, enjoy a relaxed itinerary and sometimes do the unexpected, Francesca Muir's tour must be your choice." – Diana C.
"Travelling with Francesca to Greece was a life-changing experience – her knowledge, passions and insight into the Cretan life made out trip one our family will never forget." – Celia H.
My affair with Crete began more than 30 years ago and I've been in love with her ever since, for she changed me forever and has become my spiritual home.  She leaves an indelible print on people and I have yet to meet anyone who is not equally besotted with her and all she has to offer and who promise to return– and they do, time and time again.
To this end I take small personal tours to the island where we dip in and out of her culture and explore her culinary depths. We visit traditional villages where the locals live as they have for centuries, and almost travel the length of the island where you can see first hand the snow-tipped mountains, deep gorges, fertile valleys and sublime beaches snuggling up to azure seas.
I believe the best way to get to know a place is by immersing yourself in the local culture, meeting the locals who will regale you with stories about their history and lives, and getting off the well-worn tourist tracks. Though we will of course visit the Minoan Palace of Knossos and the island of Spinalonga, which was the site of the last leper colony in Europe.
I am not a tour guide. I am a concierge.  I ensure that your trip is seamless and stress-free and I employ professional, fully accredited guides along the way. I take only small groups on my tours to Crete, to give you a very personal insight into the island that lies at the heart of the Mediterranean diet and the cradle of civilization thanks to the ingenuity of the Minoan Civilization.
A TINY ISLAND WITH A BIG HISTORY AND EVEN BIGGER HEART
This tiny island (it can fit into the island of Tasmania more than eight times) has contributed more to Western Civilization than any other place its size. It's a mythological island – think Minotaur and Labyrinth, Daedalus and Icarus, the lost city of Atlantis and the birthplace of Zeus. Crete gave Europe its name..  It's also home to the oldest living, fruit-bearing olive tree believed to be 4000 years old.
Located between the Aegean and Libyan Sea, it's an island of contradictions. A huge mountain range crosses from east to west and in the western region it's snow-capped all year round – hence its name the Lefka Ori – The White Mountains. It boasts some of the most beautiful beaches in Greece – some only accessible by boat – vast fertile plains, deep gorges and to this day, many areas of the south coast remain wild and untameable.
It has a history dating back 9000 years and been the envy of the Mycenaean's, Romans, Byzantines, Saracens, Venetian, Ottomans, Egyptians, Turks, Germans and now tourists.  So much so, some have invaded more than once!
Nonetheless Cretans have remained true to their Minoan roots and are resourceful, proud, hospitable and fiercely independent. They consider themselves Cretan first and then Greek – the island only officially became part of Greece in 1913. They are hospitable, passionate, fiercely loyal and unafraid to show their emotions – like Zorba, a happy Cretan is not ashamed to stop his car in the middle of the road, turn up the music and dance.
For Cretans, the secret to a long and healthy life is very simple – eat anything and everything that the rich soil produces. The basis of their diet, and the basis of the Mediterranean Diet, is fruit, vegetables, greens, fresh produce, legumes, cheese and bread. Wild herbs such as oregano, thyme and sage are used in abundance, their sweets and desserts use local honey and all meals are eaten with excellent local wine.  The scent of the wild herbs baking on the Cretan hillsides in summer is intoxicating.
But by far the best ingredient of the famous Cretan diet is the locally produced olive oil. Thick, aromatic, and luscious green, it's good enough to eat on its own with crusty bread, and it's what gives local Cretan dishes their exquisite flavours.
Eating is also an essential part of Cretan custom and hospitality.  The biggest problem is deciding where and what to eat. Tavernas offer a grand selection of Cretan delicacies, Ouzeries offer Mezzes (nibbles) and Raki (the local brew, commonly known as Fire-Water), fish tavernas offer whatever is fresh from the waters surrounding Crete and don't forget the good old Gyros Pitas; tasty lamb or pork souvlakia, lettuce, tomato, chips and tzatziki in a wrap.  Delicious.
CRETE – AN AEGEAN ODYSSEY TOUR 2019
FRIDAY 6 SEPTEMBER  – THURSDAY 19 SEPTEMBER 2019
13 nights and 14 days small group tour to the island of Crete
For the first week we will be staying for seven nights in the port of Agios Nikolaos in Eastern Crete with rooms overlooking the tiny "bottomless" lake – Lake Voulismeni.
While here we will:
Take a local fishing boat to the Island of Spinalonga for a guided tour of the last Leper Colony of Europe
Sit at the water's edge in a tiny fishing village and enjoy a sublime seafood meal
Spend a day in the ancient mountain village of Kritsa where age-old traditions such as pottery, leatherwear, lacemaking and weaving are still carried on today. We will visit local heroine Rodanthe's museum and eat a traditional Cretan meal under the shade of ancient plane trees
Pay a visit to a 13 century Medieval-era Byzantine church popular for its preserved frescoes depicting biblical events
Spend time at a tiny olive farm where we will learn how olive was produced for centuries; watch a shepherd milk a goat and make fresh cheese and participate in preparing a eating a traditional Cretan dish.
Visit a traditional farming village on the south side of the island on the Libyan Sea and eat a traditional Minoan Feast cooked in traditional Minoan pots with Potter, Anthropologist and Archaeologist Jerolyn Morrison.
Jerolyn discovered the origins of Minoan food and slow cooking through her excavations at various archaeological sites around the island and her work has been recognized world-wide. This is a truly a unique experience!
Join local Cretan Andreas Souris on a Culture and Cuisine tour, visiting the Minoan Town of Gournia, swim in the blue waters of Mirabello Gulf and eat in a mountain village
Join the throng at the weekly farmers' and gypsy markets in Agios Nikolaos
Enjoy plenty of free time for glorious walks, swimming in the pellucid paters of Mirabellou Bay, explore, eat, shop and just laze around as you enjoy delicious languid Cretan life
On the 8th day we take a bus trip cross the island to the Old Port of Chania (pronounced Hunyia), western Crete.  We travel via the capital, Heraklion for a guided tour of the Minoan Palace of Knossos and the Knossos Museum.  We will then enjoy a delicious Cretan lunch in the heart of the capital before continuing our journey.
In Chania we will stay on the Old Port in a unique modern hotel housed in a building built by the Venetians during the 13th century.  They built it on the ruins of a 9th century Arabic hammam (baths).
For the next 7 days and 6 nights we explore beautiful Chania with all her little alleyways and lanes and parts of western Crete. This will include:
A walking tour of the Old Port and the markets culminating in a Cretan Mezze lunch in the Venetian sector of the city.
A day trip to two of Crete's most famous wineries for a wine tasting and lunch, visiting a modern olive oil factory as well as the oldest olive tree in the world
Sip cocktails at the water's edge after a sunset walking tour of the old tanneries
See the sites on a hop-on-hop-off bus tour of Chania.
Take a trip into an ancient village in the White Mountains for a cooking lesson in an old disused olive press with Crete's most famous cook – Kiria Koula who will show us the secrets to cooking a traditional Cretan meal.
We will then sit and eat the feast in this extraordinary setting. This has been deemed the highlight of the tour!
Enjoy plenty of free time to shop and explore and visit some of the extraordinary museums found in the Old Port. Each evening we will sit and watch the sun go down with a fabulous cocktail in hand!  And if you want a traditional Turkish spa, there's the Al Hammam where you leave your modesty at the door!
Tour of Crete includes
Transfer from Heraklion to Agios Nikolaos, Eastern Crete – approximately 1 hour
7 nights Twin /Double Share Accommodation in Agios Nikolaos, Eastern Crete with breakfast
6 nights Twin/Double Share Accommodation in Chania, Western Crete with breakfast
Welcome dinner to savour delicious Cretan delicacies, with local wine
Transport to the fishing village of Plaka; local fishing boat trip to the island of Spinalonga; admission and guided tour of the Island of Spinalonga; boat trip back.
Sumptuous seafood lunch in the fishing village of Plaka with local wine
Traditional Cretan mezze dinner overlooking the little lake with local wine
Transport to the traditional Cretan Village of Kritsa in the mountains
Tour of museums depicting early life in the village of Kritsa
Lunch and shopping in the village of Kritsa
Transport, admission, tour and cooking class at The Cretan Olive Farm with light lunch
Minoan feast with with local wine – traditional Minoan food cooked in traditional Minoan pots in a small house sitting on the Libyan Sea – a once in a lifetime experience!
Tour of BioAroma – Bioaroma's 100% natural herbal cosmetics are based on research and archaeological finds that have been past down from generation to generation. No chemicals or preservatives are use and are so natural you can eat them!
Visit the Farmer's and Gypsy market in Aghios Nikolaos
Farewell dinner in Agios Nikolaos
Transport, admission and guided tour of Knossos, the Palace of King Minos in Heraklion
Admission and guided tour to the Knossos Museum
Traditional Cretan lunch in Heraklion local wine in Heraklion
Guided walking tour of Chania including the covered market and, the Venetian, Jewish and Turkish quarters
Traditional Cretan mezze lunch with local wine in the Venetian quarter.
Learn to cook traditional Cretan dishes in an old olive mill in a mountain village. We sit down and eat this delicious meal in this extraordinary setting
Lunch and wine tasting at the award-winning, family-run Dourakis Winery
Farewell dinner and local wine as we watch the sun set in the old tannery area of Chania
Farewell dinner with local wine an old Turkish Hammam
14 breakfasts
7 Dinners – including a Minoan Tastes Feast
8 Lunches
In case of inclement weather, please note some tours on the itinerary may be swapped around.  I may also swap to another day to avoid clashing with tour groups!
Exclusions:
International and domestic travel to and from Crete
Travel Insurance, (a must)
Local bus fares and taxis to places of choice during free time
All meals include local wine – so other wines, spirits with meals, cocktails must be purchased separately
Meals other than those listed above
Tips for meals, guides, bus drivers etc. (Please note: Since Greece's austerity measures came into place, waiters, drivers and guides depend on tips to live.  For example wait staff everywhere are paid maximum of A$4.50 per hour hence the importance of tipping)