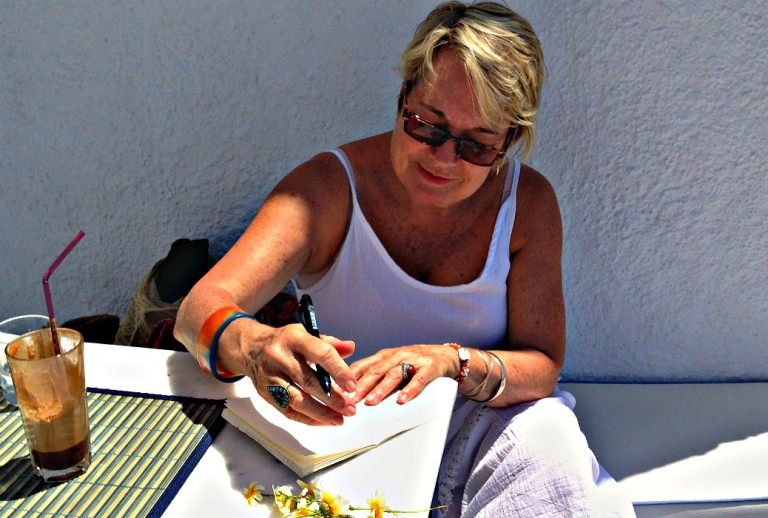 I happily blame my 'English/French, born in East Africa' heritage for my peripatetic nature and insatiable thirst for travel!
Like a cat I have lived a number of lives – a dancer; politician's wife; feature writer/journalist; radio presenter (I had the only English-speaking program the island of Crete for five years); freelance photographer/writer; film/TV marketing and publicist; scriptwriter, director and choreographer of children's theatre and musicals; events co-ordinator; administration manager; Ex-Pat; mother and passionate Grecophile.
The one life which has given me the greatest pleasure is living in eastern Crete. The fact that my daughter Alexandra was born on the island could possibly have something to do with it, as well as the never-ending joy of living with that Greek blue!
It was here that I literally fell into the world of photography. And who could blame me? After all, Greece is all about the clarity of light, the purity of colour and simplicity of line.
I live to breathe Mediterranean air peppered with wild thyme and oregano; swim in azure seas and bathe in that Greek light which has mesmerised so many for so long.
To live the simple life of a lotus-eater on an island steeped in aeons of tradition and amongst people with a deep connection to their ancient land, the sea and the air around them.
My website and Blog, "That Greek Blue" are where I share my passion and love for all that is Greek, along with the extraordinary I find within the ordinary in my daily life.
It's a reflection of Me and my love of colour, language, food and my spiritual home, Crete.
And like a favourite book on the bedside table, I hope you dip in from time to time to excite the senses and ignite a flame within to dream, to travel, to explore, to taste new horizons.
So as not to completely confuse you – all Greek words are written phonetically and then in Greek in brackets.
And I am thrilled to announce that in June 2018 I am teaming up with Jean Wethmar from Cape Lux Travels for a small tour of Crete. Let me show you the island that I love. Join us for 12 glorious days exploring the history, the food, the culture and beauty of the island. For more information on Crete – An Aegean Odyssey from June 1 to 12, 2018 see here: Crete – An Aegean Odyssey
All words, quotes and images are my own, unless otherwise stated.  Please do not copy or duplicate, without my written permission.
Just ask by sending me an email: francesca@francescamuir.com
Enjoy.