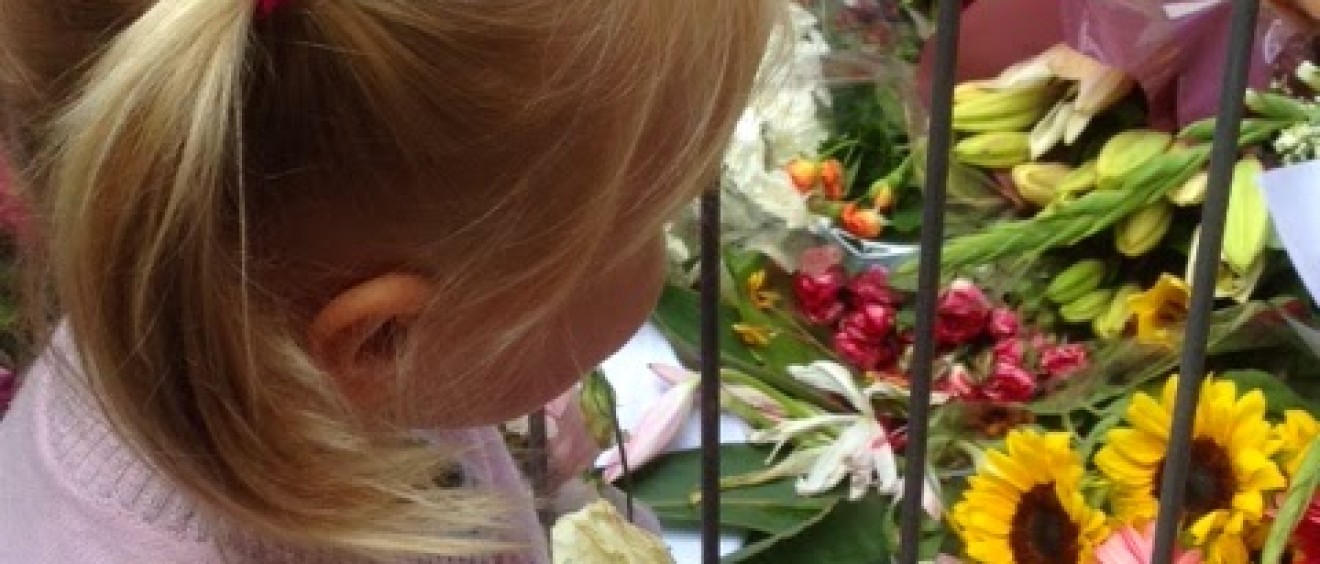 Gardenias and Local Heroes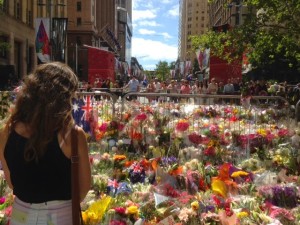 It's the scent that first hits me
I knew this wasn't going to be an easy trip to the city, but it's one I wanted, needed to make.
But I couldn't have anticipated the sweet air streets away
Gardenias. Roses. Hyacinths.

 

More gardenias. Lilies.

 
Lavender. Stock, and more gardenias.
I took dahlias from my local shop miles away.
The woman at the counter knew they were for Martin Place.

 
She lovingly wrapped them 
in wet paper and added a little water to the plastic bag.
She had almost sold out and it wasn't yet 10 o'clock in the morning.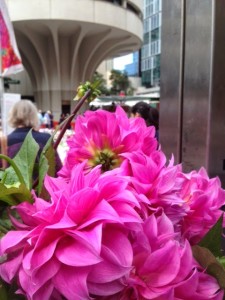 I walk through quiet Sydney streets.
Families alongside walk in the same direction.
We nod at each other. Silent. Sullen.
All carrying flowers. Lindt chocolates.
The children have toys, notes and signs of love.
It is the least we can do: pay our respects in this, the humblest way.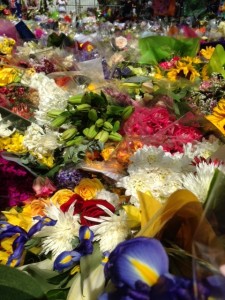 I wanted to write and tell Them that this was not in vain.
We will make this a safer place. For our children. For her children.
But I cannot see the page for tears and now the page is soaked. 
All I can write is love and sorry.

  And love again.
And they too blend into a pool of inky wetness.
A child cries. He wants to eat the Lindt chocolate bear.

  
She gives it to him knowing, They would understand.
He, fortunately, is too young to understand.
A stranger hands her a rose to place in the sea of colour and scent.
A girl with beautiful Irish eyes breaks away from her group.
She buys crisps and a bottle of water from the kiosk and hands it to the homeless man huddled behind a column.
His world in a bag next to him.

  
He smiles at her and mouths thank you.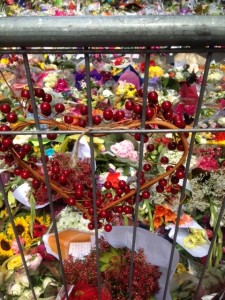 At the bottom of Martin Place a giant Christmas tree looms overhead
Gaudy decorations glint in the sunlight
Brought together through shock, tears and a deep sadness
Things for us in this city will never be quite the same again.
And through it all strains of Mark Knopfler's Going Home gently fills the silent void.
A lone musician's tribute to the Local Heroes of the Martin Place Lindt cafe.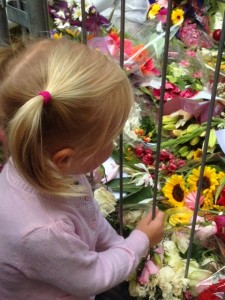 I think how blessed I am to be doing just that…
Going home to hug my baby a little tighter.
In the cold hard light of day it doesn't matter that the breakfast things were left in the sink…

 
Or the bedroom is untidy… 
Or that she's going to be late for work…
Deeply touched by the scent of gardenias and Local Heroes.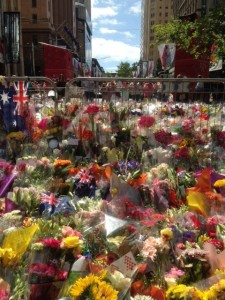 My love to you and your family.
May you keep them safe always.
Frannie xx
Saturday December 20, 2014